When Facebook CEO Mark Zuckerberg announced in January that the site's News Feed algorithm would further emphasize posts from friends and family, publishers that hadn't diversified across many platforms faced a reckoning.
Publishers like Little Things, despite testing its content on other platforms, found that Facebook was the best place to reach its site's core audience of women over 30 in middle America. The site shuttered following the algorithm change because Little Things depended on its 17.2 million Facebook fans having frequent and easy access to its content on the social platform.
Publishers that continue to thrive in an era when they can't depend on Facebook traffic have adopted common themes: Diversity of platforms is key, as is showcasing unique content on any and all platforms where people are likely to consume it.
"Rather than willingly participating in death by a thousand cuts, publishers should maintain fanatical focus on their brands and audiences."
BuzzFeed, which initially grew its massive audience on Facebook, doesn't plan to abandon the platform's 2 billion-plus person audience, but Michelle Kempner, vp of operations, pointed to how the company's food-themed Tasty channel has expanded to YouTube (with 6.2 million subscribers), Snapchat Discover and a stand-alone application. To reach a larger audience for news coverage, BuzzFeed tackled Twitter, the social platform that's best for tracking breaking news. It found a winning formula with its AM to DM morning news show, which launched last September and is averaging more than a million views per installment.
Animal-focused publisher The Dodo is in the same boat as BuzzFeed. The site has grown into a video behemoth that had the most global engagements of any Facebook page in December, according to CrowdTangle, and was also behind three of the top five shows on recently launched video platform Facebook Watch.
The Dodo has diversified, finding success on YouTube where it can monetize its videos (No. 1 media channel in the animal category), Instagram (more than 16 million engagements monthly) and Twitter (followers grew 10 times year over year). President YuJung Kim said, "A lot of people say cats invented the internet and invented the viral video, and there is truth to that. The challenge for us has been to find unique angles within animal content that allow us to differentiate ourselves."
Kim added that her site's strategy from day one was to focus on organic engagement on Facebook, and not buying or acquiring likes, as the latter would not provide the most engaged audience.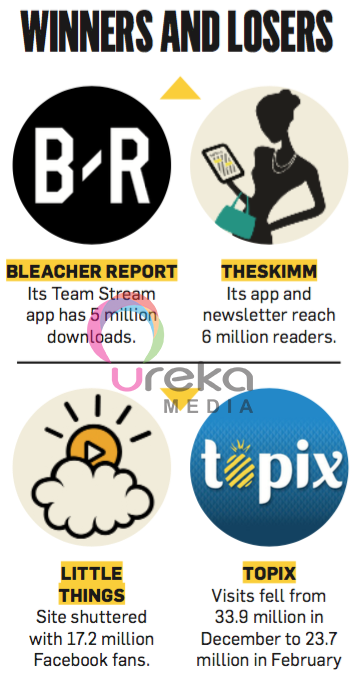 Topix is taking the opposite approach to Facebook and buying in, literally. CEO Chris Tolles said, "We're an advertiser on Facebook, as opposed to a publisher. Many in media look at buying traffic as unethical. If you're a pure-play digital company, how are you going to get out there?"
Tolles said its traffic and quality of audience from Facebook is "excellent," adding that visitors to its site remain there for an average of 15 minutes, or 70 page views. But this approach might not be enough for Topix, which saw visits to the site fall from 33.9 million in December to 23.7 million in February, according to SimilarWeb, with a drop in Facebook referrals accounting for roughly half of that traffic loss.
Topix clarified that SimilarWeb's data does not track purchased traffic, and it is desktop-only, while the majority of Topix's traffic comes via mobile.
Bleacher Report has consistently been one of Facebook's partner publishers when the social network introduces new products, and it found unexpected success on younger-skewing Snapchat for last year's much-hyped boxing match between Floyd Mayweather Jr. and Conor McGregor, with CEO Dave Finocchio telling Recode, "We ended up greenlighting a bunch of really creative projects—animated projects, Claymation projects. We did a bunch of really cool stuff for that fight, and it crushed."

Bleacher Report's iOS and Android apps—which include a Team Stream feature that enables users to see news about their favorite teams first—have also made their mark, surpassing 5 million installs via Google Play.
While Facebook is just one of the tools that theSkimm uses to build its membership community for female millennials, chief business officer Brandon Berger said the site has invested in its newsletter and app, as well as audio and video, as alternative points of entry. Brands like Casper, Starbucks, Buick, T-Mobile, Google, ESPN and Bud Light have advertised on those products, which reach the site's core audience of 7 million readers.
Josh London, CMO of digital publisher IDG—parent of PCWorld, Macworld and Computerworld—said the key for publishers is developing unique content for specific channels that appeals to the 14-to-34 age group, including audio and visual effects, GIFs and other "fun" features.
"Rather than willingly participating in death by a thousand cuts, publishers should maintain fanatical focus on their brands and audiences," said London, "and how they can uniquely offer new ways of leveraging this relationship for marketers through data and services."
Source: David Cohen - Editor of Adweek's Social Pro Daily.