After a rough first year as a public company, Snapchat is looking for ways to differentiate itself from other social platforms, and it's possibly found one way: location.
Location and social media have a long history of not working out well. Facebook has tried several times to crack location (most recently with a stand-alone app called Events), while apps like Foursquare originally focused on check-ins and gaming features that allowed consumers to compete with their friends. And at a time when the terms "data breach" and "hacks" are part of seemingly every conversation around social media, the notion of a platform investing in building out a location-data arm might seem like a fool's errand.
Snap disagrees and thinks it can succeed where others have failed. The company has acquired two location firms—Placed and Zenly—and has put "significant engineering resources" into location across advertising and revenue, content, and product teams.
In August, Snapchat began testing Snap to Store, a product to track whether people who viewed an advertiser's ad then went to a store. Now, Snapchat is making that feature available to all brands, whether they buy advertising or not. Much like how Foursquare and other location-based companies can anonymously track a consumers' location to gather insights, the idea is to "give marketers visibility into the scale of audiences who use Snapchat near their venues every day," said Max Maxwell, director of revenue product of audience and location at Snapchat.
Maxwell added that foot traffic stats provide marketers with "a sense of which day's traffic is highest, what hours of the day are most relevant that are agnostic of any campaign that they may be running at that moment."
The stats include visitation metrics, including how many people visited a store and how many came back, as well as audience stats like users' demographics and interests.
Omer Nisar, senior partner and group director at WPP-owned Essence, thinks that because of this information, Snapchat can succeed at location-based marketing where other platforms have failed.
"The differentiator for Snapchat is in the audience to which they provide access," he said. "Combining location and a highly sought-after demographic makes the location addition a welcome one for us."
Madwell's CEO David Eisenman said Snapchat can still be tough to justify in budgets but that location's "ability to define performance so tangibly could definitely change how we advise our clients to invest their media dollars."
"We'll test and learn, and if we see good results, we'd for sure be open to moving dollars there," he said.
Maxwell added: "We want to give marketers visibility into the scale of audiences who use Snapchat near their venues every day so that they have a sense of which day's traffic is highest, what hours of the day are most relevant that are agnostic of any campaign that they may be running at that moment."
Snapchat is also unveiling a feature called location categories that let brands target ads directly at specific types of locations. There are 150 categories that range from broad areas like beaches to specific places such as housewares stores and coffee shops.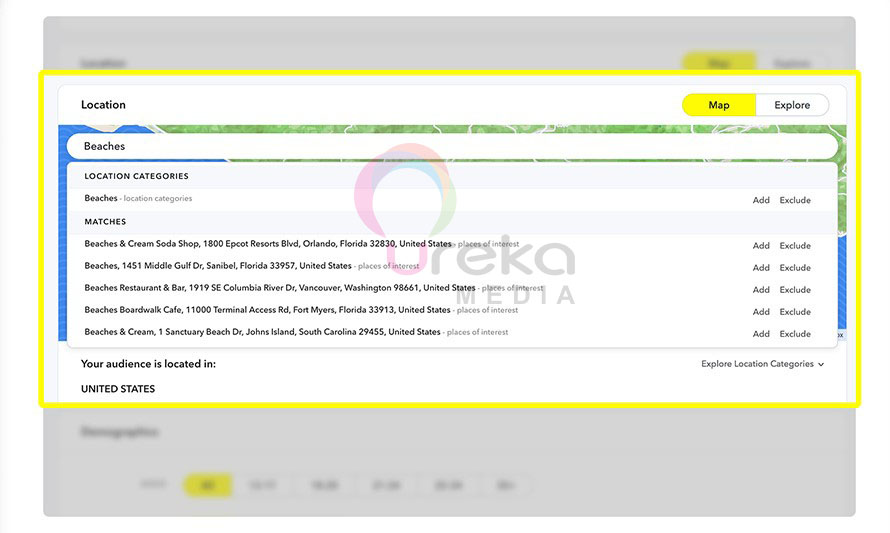 There's also a new geofencing feature called radius targeting that can pinpoint addresses or latitude-longitude coordinates and serve Snapchat ads only in the radius around that area, which can be within 0.63 miles to 62 miles. Flight-booking app Hopper, for example, wrapped ads around airports with copy that encouraged consumers to book a flight on the go. According to Hopper, Snapchat quadrupled the company's booking rates compared to other social ads, prompting Hopper to increase its Snapchat budget fivefold and make the app its primary acquisition channel.
Nordstrom Rack has also beta-tested Snapchat's radius-targeting tool, setting up ads to run within 20 miles of new store openings, said Nicole Luna, social media specialist at Nordstrom Rack, though she did not disclose which stores have been targeted with ads. "We've been able to get in front of the most relevant Snapchatters who are within range to walk through our doors and start shopping with us," she said.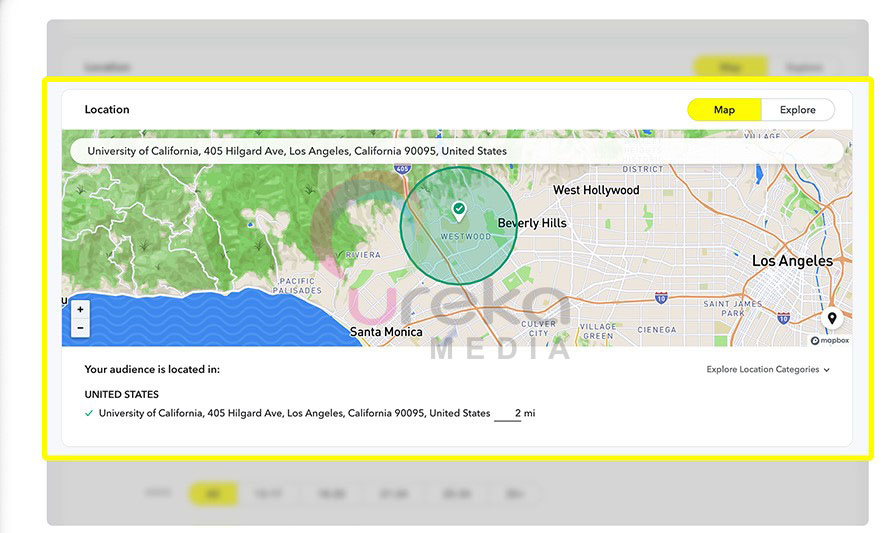 Both radius targeting and location categories are built into Snapchat's ad manager and use Snapchat's own data collected from daily sessions, meaning Placed's data and any other third-party data is not included. Data is anonymous and only viewable for groups of more than 1,000 Snapchat users, meaning brands can not get specific stats about individual users.
As Snap has built out its ad offerings, it has recently focused on targeting small businesses in particular as a way to grow revenue beyond big brands. Madwell's Eisenman thinks playing up location could work for both types of brands.
"If they can attract a bunch of smaller businesses and create scale that way, great," he said. "Geographic focus can allow small advertisers to penetrate their niche audience, while bigger advertisers can access a national one. There's a real, plausible reason for both to advertise on Snap."
While location features can be tough for social platforms, Snapchat claims the IRL experience is crucial to how people use the app. For example, over 3 billion snaps overlaid with geofilters are viewed every day, and Snap Map, a feature that shows users where people are posting from, counts more than 100 million monthly users. Additionally, 80 percent of users open the app at restaurants, 60 percent use it at the movies and 50 percent snap pictures and videos while at the gym, according to the company.
"Most other platforms are focused on measuring the impact of media on store visits," Maxwell said. "We focus on that too, but this is about baseline visitation. … [It] gives pre-campaign guidance to advertisers to where they would want to reach their audience overall."
Lauren Johnson - senior technology editor for Adweek, where she specializes in covering mobile, social platforms and emerging tech.